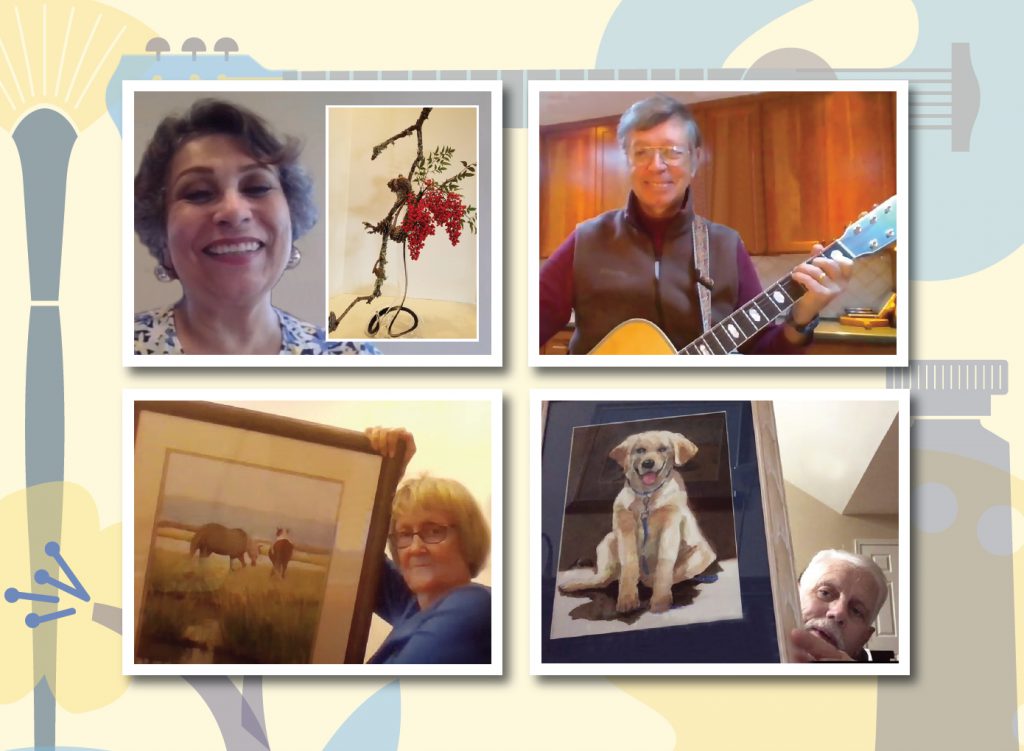 UD's lifelong learning programs collaborate across Delaware for successful online program
Spring OLLI registration starts Jan. 13
Along with the rest of UD in 2020, the University of Delaware's Osher Lifelong Learning Institute (OLLI) programs—comprised of members 50 or older, including more than 70 participants between the ages of 85 and 95—quickly adapted to online classrooms during the coronavirus pandemic.
But unlike the larger UD student and faculty community where expectations may have assumed a nimble transition, some might not have guessed just how quickly or how successfully the "OLLI demographic" has made the leap to online learning.
In March when UD and OLLI halted in-person classes, some OLLI classes unofficially continued their discussions virtually for the rest of the spring semester. Virtual social groups enabled OLLI interactions to continue, and OLLI's extracurricular needlecraft groups sewed masks for donation.
Almost immediately, OLLI staff and volunteers set their sights on developing and launching a fully-online summer pilot program, enrolling over 700 participants in a statewide cooperative effort. The model was carried over into the fall semester, which ultimately boasted over 1,800 enrollments and more than 200 course offerings.
UD's program for learners age 50-plus already holds distinctions as one of the first and largest OLLI programs in the country. And now it's one of the largest online OLLI programs, enrolling participants from 18 states.
The online, videoconferencing-based format was new to some OLLI participants, but instructors and students adapted quickly, crediting OLLI staff and volunteers for providing the needed technical support. OLLI staff and member-volunteers held Zoom training sessions customized for instructors and members and persevered through many first-time challenges.
"I am amazed at how much I'm enjoying the virtual interaction," said OLLI Kent-Sussex member Marge Felty. "We're navigating new territory together and learning in the comfort of our own homes." In addition to taking OLLI classes, Felty hosted a biweekly "Whatever Makes You Happy Hour" with fellow OLLI member Susan Watkins.
OLLI Wilmington participant Anna Marie D'Amico, also an OLLI yoga instructor, says she has thoroughly enjoyed her online classes. "I must admit I am getting spoiled by the online format," said Dr. D'Amico. "I roll out of bed 20 minutes before class time, make a cup of tea, sit down at my computer in my PJs, and I am in the classroom."
The UD OLLI programs normally operate as largely independent locations in Wilmington, Bridgeville, Dover, Lewes and Ocean View, Delaware, but joined forces to share strengths among staff, volunteers, instructors, committees and members for online programming.
Participants include both longtime and new OLLI members. For many, the OLLI online courses provided opportunities to maintain social distancing while connecting virtually with siblings, children, friends, and even former roommates by enrolling and participating in online courses together.
Along with a wide variety of discussion- or presentation-based classes covering topics like history, film, rock music, financial literacy, health and wellness, book clubs and more, online classes also include activity-based subjects creatively adapted from a normal classroom format to work for the virtual classroom. In the fall semester, activity-based classes included guitar sing-alongs and instruction, card-making, folk dancing, salsa dance instruction, basket-weaving, craft and needlework circles, painting and drawing, and chess.
OLLI Wilmington member and instructor Glenn Rill has taught guitar singalong and play-along courses at OLLI for several years and was enthusiastic about the online class format. "This past semester two courses have proven this to be a wonderful medium," said Rill, referring to Sing Through the 2020 Election and Easy Guitar: Play for Joy, both of which he co-taught with other OLLI instructors. "Is it the same? No, but in some ways, it's been better than ever, because it always feels so good to see everyone and chat and laugh with them. Our Zoom gatherings are more important than ever."
Another example of a site-based course successfully adapted as a virtual offering is Sima Sariaslani's ikebana class. Sariaslani, a member and volunteer instructor in the OLLI Wilmington program, commented that like her OLLI class, the global community of ikebana practitioners and artists has also incorporated virtual platforms and methods. To teach her online OLLI class, Sariaslani records instructional videos for her students then provides personal feedback on the participants' ongoing flower arrangements during their videoconferencing time.
At the OLLI Kent-Sussex program, artist and art department chair Pete Feeney helped recruit and encourage OLLI instructors to consider teaching online. Initially unfamiliar with videoconferencing and teaching online, award-winning artist Chris Dodd was one of the OLLI instructors Feeney coached, resulting in her successful and popular watercolor offering this fall. The course drew art instructors from the OLLI Wilmington program who visited and observed Dodd's online class to learn from her teaching format.
Added Rill, "COVID has certainly been a challenge for us. But at OLLI, we are stronger, because we did not let it dictate what we can accomplish."
Registration begins Jan. 13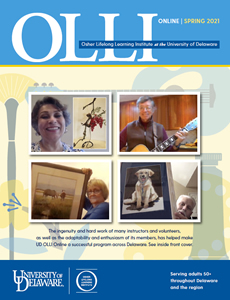 More than 200 UD OLLI Online courses are offered this spring in subjects like African American literature, iPhone photography, beginning band, craft circle, languages (American Sign Language, French, German, Italian, Latin, Spanish), investing, quantum physics, Laurel and Hardy, computer coding, gardening, genealogy, railroad history and much more.
Spring 2021 classes start February 22 and April 5 in 11-week and 5-week formats. Online course listings are available now.
Prospective OLLI students are invited to learn more by participating in a free online virtual open house on January 8, 11 or 15, visit the website to RSVP.
Registration begins on Wednesday, Jan. 13 on a first-come, first-served basis. The spring semester OLLI membership fee is $75, with a per-class fee of $50 or $25 for 11-week and 5-week classes, respectively. Signing up for classes is optional, as many virtual activities and benefits are free to membership-only participants.
Past OLLI membership is not required to join UD OLLI Online. For details about UD OLLI Online, visit the website at https://www.olli.udel.edu/online.
About OLLI at UD
UD's Osher Lifelong Learning Institutes are volunteer-based learning cooperatives for adults age 50-plus to take and teach classes together with no grades, exams or educational prerequisites. OLLI programs are located across Delaware.
The University of Delaware is proud of its history as one of the first and largest lifelong learning programs in the country. Last year, when the country's OLLI programs reported 170,000 participants nationwide, more than 4,000 were members of the Delaware programs.
In Delaware and across the country, OLLI is affiliated with and receives partial support from the Bernard Osher Foundation, a philanthropic organization focused on higher education, lifelong learning and the arts.