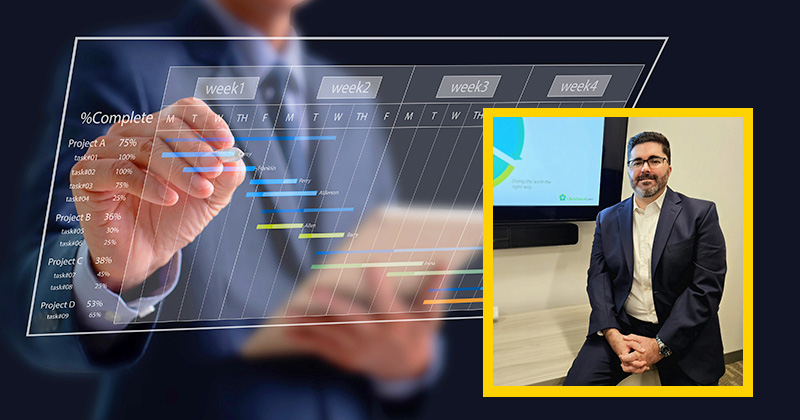 Next course starts Sept. 13 live-online
The job outlook for project management professionals is strong: 2.3 million people will need to enter project management-oriented employment (PMOE) every year through 2030 just to keep up with global demand, according to the Project Management Institute (PMI). PMI also found that the average salary of $111,399 for PMOE jobs in 2021 was almost twice the average for non-PMOE jobs.
Ryan Crawford, who taught his first class with the Project Management Certificate program within the University of Delaware Division of Professional and Continuing Studies (UD PCS) in the spring, encourages people to take advantage of the current market by making project management part of their professional development.
"Whether you are using project management as an entry point to a different career or using it to strengthen your current career path, you will see three benefits that I call the 'three V's,'" explained Crawford, who brings nearly 20 years of project management office development, portfolio management and program and project management experience in the financial, technology and healthcare industries to his virtual classroom. "You will have 'visibility' within your organization because you'll work with people, processes and technology across departments, and sometimes even across companies. You'll also have 'variety' because projects are timebound, so there's always something new on the horizon."
"But the most important benefit project management brings is 'value.' No matter the scale of the project, the goal is always to deliver a product that is of value to your stakeholders, and that's your value to your organization."
Crawford serves as corporate director of ChristianaCare's Enterprise Portfolio Management Office (EPMO) where he sees the "three V's" at work every day. In this job, he works with a diversity of people, from executive leadership to frontline project managers, to lead the centralized governance and management of the healthcare organization's strategic portfolio of projects.
"My work can involve anything from expanding into new markets or breaking ground on a new hospital to introducing a new health service to the community," he said. "While these projects are very different, we always aim to leverage a consistent methodology to ensure value delivery. And we share an ultimate goal — making the best care possible available to the people we serve."
It's Crawford's passion for delivering value that brings him to teaching project management. "I love my profession and I want to give back to it," he said. "Too many people have had bad experiences with project management because it's often confused with administrative tasks or tools — projects should not be led like that. Yes, you have to do schedule, scope and budget, but the point is to work together to find optimal solutions and then lead people to the desired results. I want to make sure people in the field understand why it's important to be a 'people-first' leader, something I practice in my own work."
While Crawford has the experience and expertise to take people already working as project managers to the next level, he is also very supportive of people who are new to the idea of project management, as students from his well-received UD class last spring discovered.
Former student Emily Geno Gayle with Wilmington Alliance said, "At first, it didn't seem obvious to me how project management concepts applied to the nonprofit work that I do — they seemed to me to be more readily applicable to the work that people like engineers or software designers do. But Ryan worked closely with me on my class project and answered my many questions so that I could see how project management could work for me."
Charmian Makell, interim director of grant administration for D.C. Public Schools, also found Crawford's approach to teaching showed her how project management was relevant to her professional goals. "I really appreciated the group project experience in the course much more than I expected. I think Ryan must have taken a thoughtful approach to putting together our teams and it was amazing how well we worked together — the course was an inspiration for how I hope I can help my team."
Next class starts Sept. 13
The next live-online course in the UD PCS Project Management Certificate program runs Sept. 13 through Nov. 15. The program is designed both for people new to project management and people who want to formalize their work experience. Participants learn foundational skills and earn contact hours needed to apply for a PMI certification exam. Course participants can also earn professional development units (PDUs) for maintaining credentials.
This course gives students an understanding of the role and functions of the project manager and Scrum Master and shows them how to plan and manage projects using tools like Work Breakdown Structures, Gantt charts and Agile ceremonies. Within the framework of a group project for the course, students learn the traditional approach to project management where work is completed in a linear, sequential manner, as well as iterative approaches like Agile and hybrids of the two methods. All learning is supported by hands-on activities that build practical, use-it-next-day skills to manage any project, large or small.
Learn more about the certificate program at www.pcs.udel.edu/project.