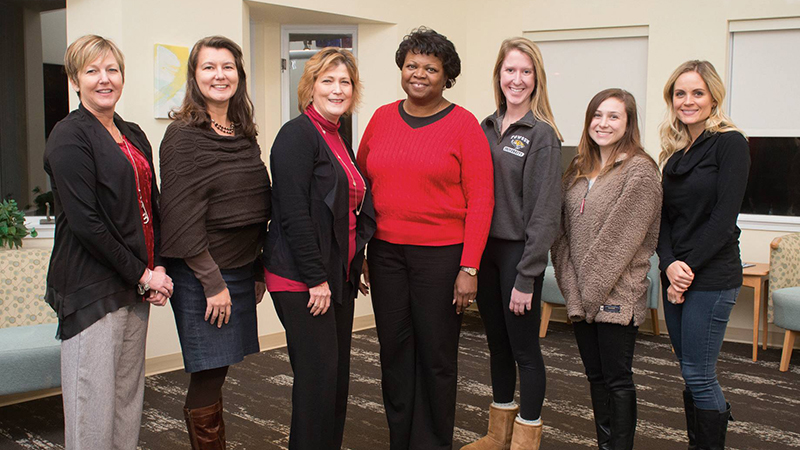 Next PHR/SPHR certification prep course begins Feb. 28
Although Anne Hardesty has a fair amount of human resources experience, her resume was lacking any certification credentials exhibiting her mastery of the field and commitment to it. Knowing career advancement would be especially tough to achieve without a college degree, Hardesty was pleased to find out about and enroll in the HR Certification Institute® (HRCI) Professional in Human Resources® (PHR)/Senior Professional in Human Resources® (SPHR) Exam Prep course introduced by the University of Delaware's Division of Professional and Continuing Studies (UD PCS) last fall.
HRCI PHR/SPHR Exam Prep

Feb. 28-May 16, 2018
Newark, Del.
Prepare to become a certified HR professional by studying the six topics presented on the exam.
"We had a really good mix of people in the class, including some who were pretty new to HR and others who had been in it for many years," said Hardesty. "Everyone was very friendly and liked sharing their experiences."
Whether students are preparing for their PHR or SPHR designation, the course addresses both exams and utilizes six textbooks covering the topics on the tests: business management and strategy, workforce planning and employment, human resource development, compensation and benefits, employee and labor relations, and risk management. Selected sections of the books are noted as being specifically relevant to one exam or the other.
The spring 2018 class will run for 12 straight Wednesdays, Feb. 28 – May 16, 6-9:15 p.m. on UD's Newark campus. While the program is geared toward people employed at various human resource levels, professionals without HR titles but who perform HR-related functions also enroll.
Hardesty was initially concerned about comprehending the vast amount of information over a relatively short period of time and, with the encouragement of her instructor, quickly committed herself to a study schedule. She also benefited from the weekly face-to-face sessions. "I really liked attending the classes because they reinforced the readings," said Hardesty. "Since our instructor had so much experience in HR, she was able to support the content with her real-life stories that helped us remember the material."
Thanks to her experiences in both the private and public sectors, Hardesty had plenty to contribute to the discussions as well. A native of Florida, she attended Miami Dade College after graduating from high school in the late 1970s. Despite earning more than 60 college credits, she did not quite complete her associate degree and put her career aspirations on hold after getting married and having children. She re-entered the workforce with a company in Wilmington, Delaware, where she held positions in accounting, human resources and operations. She then accepted a human resources job with the Delaware Department of Transportation (DelDOT) in Dover. Looking to shorten the commute from her North Wilmington home, Hardesty recently began working as the office manager for the cabinet secretary of Delaware Health and Social Services (DHSS) in New Castle.
To earn PHR or SPHR certification, participants must meet experiential and educational requirements before taking either exam. Though students are not required to commit to an exam during the course, Hardesty knew she wanted to focus on attaining SPHR status. Shortly after completing the program, she became the first member of her class to pass either exam. Hardesty is eager to put her accomplishment to use and would like to make a return to human resources.
"I think this is going to help me when I apply for jobs," said Hardesty. "At least in the public sector of state government, the certification is the equivalent of having a bachelor's degree. It is recognized as something that is challenging and hard to achieve."
Potential discounts for HRCI PHR/SPHR Exam Prep are available for UD alumni, active military members, veterans and groups of two or more from the same organization. For more information, visit www.pcs.udel.edu/hr-exam-prep, email continuing-ed@udel.edu, or call 302-831-7600.