Create a personalized education program with immediate application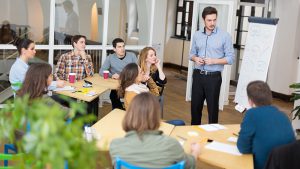 University of Delaware's Division of Professional and Continuing Studies (UD PCS), in partnership with faculty from the Alfred Lerner College of Business and Economics, provides actionable, research-based executive education to help you improve your business.
Our program is personalized: You choose the programs that matter to your business and career. You can take just one program or stack them together to earn a personalized University of Delaware Executive Education Certificate.
Our expert faculty provide you with the latest business research findings on leadership, finance, big data and more. We use real-world case studies, teamwork and facilitated discussion to help you think about how to apply what you learn to your business.
Our half- or full-day programs are convenient. The short length allows you to:
Quickly learn the knowledge you need to know
Spend less time and money for high quality executive education
Network with professionals from regional organizations
Return to your business to apply what you have learned
Options for groups
We offer tiered pricing for companies interested in sending multiple employees to our programs to complement in-house employee development programs. In addition, our programs can be customized for your company's needs and taught on-site.
Program topics
Program topics include:
Paradoxical leadership
Strategic leadership in difficult times
Leading with power and influence
Leadership and social responsibility
Multidisciplinary team decision making
Data analytics and visualization
Leading with emotional intelligence
Leading organizational change
Building a learning organization
For more information
We greatly appreciate your interest in the University of Delaware's customized learning offerings. We would welcome the opportunity to collaborate with your organization to develop a tailored curriculum with defined learning objectives to enhance skills and knowledge around specific topic areas. Please take a moment to fill out the information below and a member of our team will contact you promptly to set up an initial discussion. Thank you!